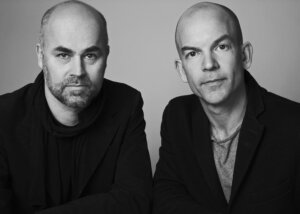 Martin Videgård and Bolle Tham.
Tham & Videgård is based in Stockholm, Sweden, and directed by co-founders and lead architects Bolle Tham and Martin Videgård. Since the start in 1999 the practice has attracted attention for its innovative approach and many completed works in all scales ranging from objects, interiors and private houses to public buildings, museums, university buildings, offices and housing.
Tham & Videgård believes that architecture is about the future. A building stands for hundreds of years, so inevitably it is not only contemporary but also a form of continued history projected into the future. Seen from this perspective, all the ordinary circumstances affecting the conception of a new building or a new urban environment, are secondary to the lasting impact and quality of the construction: its long term environmental effect, its architectural integrity and function, its capacity to convey the ideas and ideals of society. The end result is the only thing that matters.
Tham & Videgård has won several national and international awards, and twice the Kasper Salin Prize, most recently for the new KTH School of Architecture at the Royal Institute of Technology in Stockholm. Other major and award winning works include the Kalmar Museum of Art (Kasper Salin Prize 2008), the Moderna Museet Malmö (for the Swedish Museum of Modern Art), Västra Kajen housing, the Stenhöga offices building and the Tree Hotel in Harads.
Ongoing projects include the new Faculty of Fine, Applied and Performing Arts in Gothenburg, the new Mess Building for the military academy at Karlberg Castle in Stockholm, as well as the Denfert building in Paris and two offices and housing blocks in Prague. The work of Tham & Videgård has been exhibited at the 12th, 13th and 15th International Venice Architecture Biennales, the Lisbon Triennale, the Buenos Aires Bienal Internacional de Arquitectura, the Chicago architecture Biennial, the Victoria & Albert Museum in London UK and at the Louisiana Museum of Modern Art in Denmark. In October 2022, an extensive retrospective exhibition showcasing more than one hundred of Tham & Videgårds works will open at the Swedish Museum of Architecture and Design, ArkDes.
Bolle Tham and Martin Videgård are members of the Royal Academy of Fine Arts and teach and lecture at schools of architecture in Sweden and abroad.